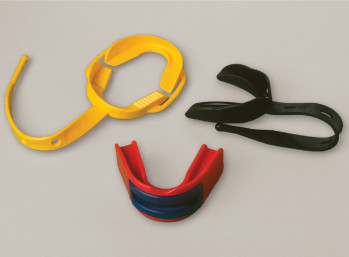 Types of mouth guards
Custom-made
Custom made from a full-mouth impression taken in the dentist's/dental specialist's office and sent to a dental lab for fabrication
Pros
Provide the most protection and comfort
Covers all teeth and cushion the jaw.
No interference with speech or breathing.
Adjustable for all sports
Cons
More expensive than commercially-made mouth guards
Mouth-formed or "Boil-and-Bite"
Boiled in water for a period of time and then formed to the teeth by applying pressure
Pros
Cost Effective
Available from department and sporting goods stores
Provides better individual fit than stock mouth guards
Cons
Tend to wear quickly and may need to be replaced during the sports season.
Difficult to speak and breathe
Stock or Commercial Mouth Guards
Rubber or polyvinyl and sold in small, medium or large sizes
Pros
Sold in major department and sports goods stores.
Inexpensive.
Cons
Cannot be modified to fit the individual's mouth.
Least effective in terms of protection.
Impairs breathing and stays in place only when mouth is closed
For athletes currently in orthdontic treatment, contact your orthodontist about the type of mouth guard to wear during treatment.